Posted by Neo Messtechnik
On 19. April 2021
0 Comments
Who doesn't know the quirky detective who is always called in when the investigators are at a loss? That best detective who methodically and calmly records all the variables and analyses them unerringly towards the end of each episode? A comparison with the market for power quality analyser.
Competition of Power Quality Analyzer
Showtime
Imagine the following scenario.
A freely invented story. Any actual names or likenesses of movies or celebrities are used in a fictitious and parodic manner. You are reading a memory log.
---
First act – Columbo enters the scene
An old, dented car that has fallen out of time drives up. Quiet whispering, laughter in some places. Unimpressed and calm, Columbo gets out of his Peugeot 403 convertible, locks it and enters the company premises with a trench coat and cigar in his right hand.
The story has thus officially begun.
Columbo passes several detectives on his way who still seem to rely on traditional analysis methods.
Their heavy and dusty lie detectors and jamming recorders seem to be even older then Columbos' car
and definitely receive first place votes for oldest technology standing around.

"However, they won't be able to contribute much to today's case," thinks Columbo, as he light-footedly dodges
the colleague who stumbled over the tangled cables of his equipment.
Act Two – First Clues
Columbo enters the lobby. A crowd of people has gathered around the chief inspector, who is just beginning to recount the events of the previous night.
Columbo looks around. Several of his colleagues have spread out in the lobby.
They have set up tables and mobile analysis labs with the help of several extension cables.
A multitude of open analysis cases, equipment, cables and constant beeping dominate the picture.
Columbo smiles. As he listens to the chief inspector, he begins to records first quantities, unnoticed by the auditorium. It seems he has taken more than just a notebook and his cigar from his old Peugeot.
He had to muffle the cigar at the entrance, by the way.
"Sorry, Mr. Columbo, fire safety," he was told at the reception desk,
to which he merely replied a quiet "Welcome to the 2000s."
… and for this reason it is of particular importance that I also show you all the backyard …
There seems to be another clue in the garden of the premises. Full of anticipation, Columbo sharpens his cigar.
Incredulous, the chief inspector notices that some detectives seem to be tied to their measuring stations.
But as he was about to ask them to come along, he realizes how they're literally bound to the tables and
cables of their devices and spares them to put the finger in the wound.
"Let's go" , the inspector shakes his head and leads the remaining detectives outside.
Act Three – A First Picture of the Event
---
The remaining detectives listen attentively to the descriptions of several witnesses. Notes are written, sizes are recorded, and initial strategies and concepts are drafted. We are in the most productive part of the entire endeavour. For the first time, the chief inspector is confident that he can solve the mystery.
You there, what did you find out?
"We have a suspicion, but we are not sure. The time stamps on our devices do not match internally
nor with the statements of the witnesses we have spoken to."
Another competitor who has just taken himself out of the game.
Columbo merely shakes his head.
Act Four – The Field Clears
"We've covered all the variables and have been able to get a comprehensive overall picture of
what's going on."

"Don't keep me in suspense. Finally tell me about the cause of the problem"

"Sir, we have only collected the data, but we can't look at it right now.
To do that, we need to go back to our lab to display the data on a more powerful computing machine.
However, we will resolve this circumstance soon with our new tracking device."

"I'm tired of hearing your excuses. I need a solution NOW."
Act Five – There's just one more thing ..
Less than a handful of detectives are in the investigation room. Guesswork. Awkward silence. Perplexity. Restlessness. Only Columbo smiles silently to himself.
The remaining detectives turn away from their screens and fix their gaze on Columbo when asked if they have checked for higher frequency emissions.
Hastily, they reply yes, of course, and show Columbo their measurement screens.
Columbo examines the screens of his competitors and smiles.
Indeed, as they said, there truly is not a problem looking at their measurement results.
But Columbo transformed their information into his own theory that looked like this..
Act Six – The Resolution
Columbo pulls out a compact yellow power quality analyzer from under his trench coat,
selects the harmonics view via the touchscreen and shows them the following picture.
Supraharmonics
high-frequency disturbances
Columbo minimizes the measurement screen and shows the following.
The case is solved. Time for lunch!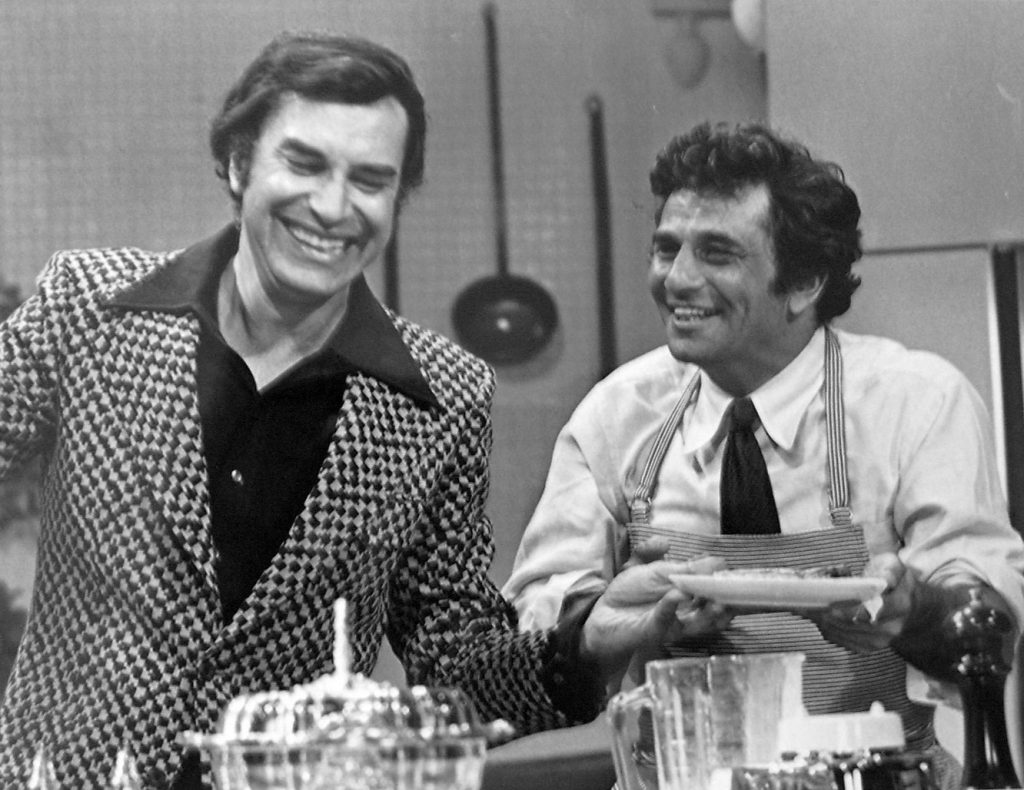 Epilogue – Chief Inspector's Notes
The detective's business card
"Next time, I'll bet on the right one right away."
Do you have any further questions?
Contact us – on LinkedIn, per mail or by phone. We look forward to hearing from you,
Your NEO Messtechnik experts
Got a taste for it?