Posted by Neo Messtechnik
On 5. December 2022
0 Comments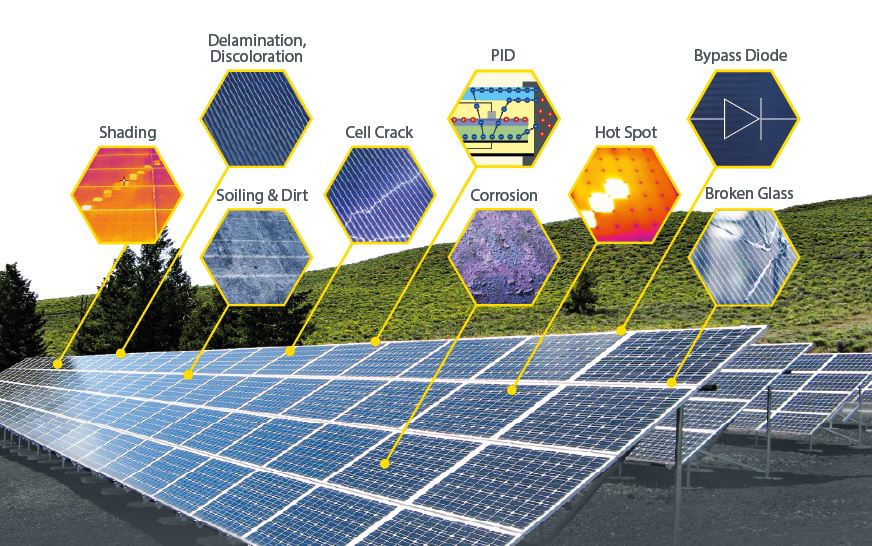 As the efficiency of photovoltaics advances, so do their inspection methods. More and more types of faults can be identified in existing installations. Today we would like to introduce you to the best methods on the market for the inspection of photovoltaic systems and compare them subsequently.
Visual inspection
Visual inspection of a solar system is the simplest method of finding defective PV modules. It basically consists of walking through the rows of modules and determining if there are any visible defects. Unfortunately, this method cannot detect many types of defects, so it does not provide a sufficient inspection.
Thermal imaging
Thermal imaging is the best-known and longest-used PV testing method in the industry. Thermal imaging is based on the phenomenon of the temperature increase of solar cells in the presence of certain types of defects. Thermography uses a camera with a special lens and a thermal sensor. The biggest problem with thermography is that a temperature difference is necessary to indicate defects, but many common types of defects do not cause a temperature difference. Therefore, only a certain number of defect types can be detected.
Electroluminescence
Electroluminescence is a method that is often used in laboratories. In this method, the function of a solar module is reversed. A generator is used to send electricity through the module or string, and the radiation emitted from the modules is monitored with a special camera. Electroluminescence is particularly useful for detecting cracks in the cells and determining their location. Other types of defects that can be detected include PID, damaged bypass diodes, and in some cases hotspots. A major disadvantage of electroluminescence is that, to date, this method can only be performed at night or in a laboratory where daylight is excluded.
1-channel IV characteristic measurement
The IV curve measurement is a now well established method for PV inspection. For this method, the current module temperature, ambient temperature and irradiation are measured. With these values, the expected current-voltage curve is created and compared with the current current-voltage curve. Measurement of the IV curve is particularly good for detecting many different types of faults. Problems with this method are the high time consumption and the non-existent detection of mismatch losses.
Multi-channel IV curve measurement
The multi-channel IV curve measurement works in principle like the single-channel characteristic curve measurement, except that several strings can be measured simultaneously here. This means that much less time is required for the measurement. One of the biggest advantages of this method, however, is that mismatch losses can be detected and displayed as a numerical value. This is particularly important as mismatch losses prove to be the largest losses in many plants. It can also be useful to check mismatch losses during the commissioning phase to verify the desired performance of the plant.
Comparison of the individual methods
For a better illustration of the different methods and to make the advantages and disadvantages of each method visible, here is once again a comparison of all inspection methods.
If you would like to know more about the Multichannel IV method or would like to receive information about our Multichannel IV measuring device, please have a look at our website or contact us!