Posted by Neo Messtechnik
On 26. January 2021
0 Comments
Die hervorragend aufbereitete neueste Veröffentlichung der ENTSO-E beantwortet viele Fragen, die seit dem Beinahe-Blackout am 8. Jänner aufgeworfen wurden. Die Reihe an Geschehnissen, die im Bericht einfach und minutiös geschildert werden, unterstreichen die erfolgreiche Zusammenarbeit und Koordination der europäischen Übertragungsnetzbetreiber.
Was ist geschehen?
Als wir in unserem Artikel Europe on the brink of a Blackout erstmals Stellung zu den Ereignissen vom 8. Jänner 2021 genommen haben, gab es sehr wenige gesicherte Informationen dazu. Dies hat sich jedoch dank des heutigen Statements der ENTSO-E, unter diesem Link zu finden, schlagartig geändert. Ausgehend vom Ausfall einer 400kV Sammelschiene in Ernestinovo, Kroatien, schildert der Bericht minutös, wie es zur folgenden Systemauftrennung in Europa gekommen ist. Für eine Zusammenfassung bzw. Stellungnahme in deutscher Sprache möchten wir unseren interessierten Lesern auf die Website von Herbert Saurugg, Präsident der Österreichischen Gesellschaft für Krisenvorsorge (GfKV), aufmerksam machen.
In der NEO Messtechnik Station in Wien hat der Power Quality Analyzer PQA8000 die bereits erwähnte Frequenzabsenkung von 240mHz auf 49.76 Hz als Event getriggert und aufgezeichnet.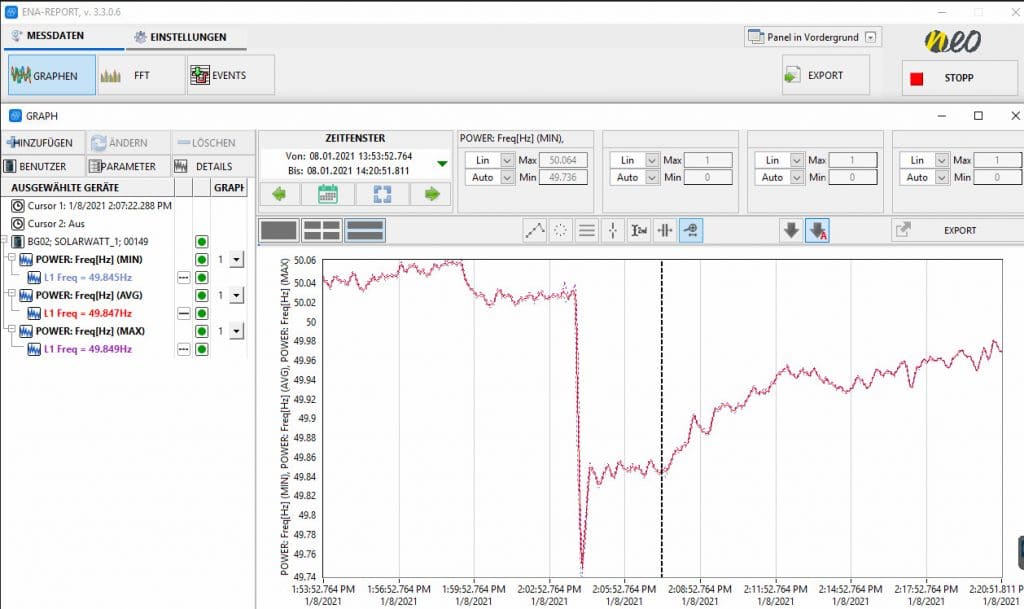 Herausforderungen der Gegenwart
Die Sicherstellung einer zuverlässigen Stromversorgung als Grundlage unseres modernen Zusammenlebens stellt alle beteiligten Akteure der Energie- und Elektrizitätswirtschaft vor zunehmend größere Herausforderungen. Die Veränderungen der Kraftwerkskapazitäten und Entwicklungen rund um die Erneuerbaren Energien erfordern zunehmend durchdachtere (Gegen-) Maßnahmen, um die Stabilität der europäischen Stromversorgung zu gewährleisten.
Power Quality Analyzer und Monitore haben sich in den letzten Jahren ebenfalls erheblich weiterentwickelt, um den Anforderungen von Kunden wie Kraftwerks- und Netzbetreibern gerecht zu werden. Wir von NEO Messtechnik leisten hier unseren Beitrag zur Netzqualität, indem wir die Messung, Aufzeichnung und Analyse von dynamischen Vorfällen wie am 8. Jänner ermöglichen. Dazu zählen der mobile PQ Analyzer PQA8000 mit 1MS/s, Multitouch-Display und 4 Stunden mobilem Betrieb ebenso dazu wie der PQM 200 mit bis zu 48 Kanälen pro Monitor, 144kS/s und 24bit Auflösung. In Kombination mit intuitiver Software wird die zuverlässige Analyse und Berichterstellung mitsamt Datenexport durch Arbeiten in der Cloud damit zur Realität.